About Christy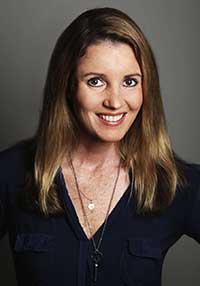 Christy Lemire grew up in the San Fernando Valley in the 1970s and '80s with a mother who loved Fellini and a father who loved Humphrey Bogart and John Wayne. By age 12, she was sneaking by herself into repeated showings of "The Karate Kid," and by her teens, she knew every single word of "Sixteen Candles" and "The Breakfast Club" (and still does, proudly).
Christy majored in journalism at Southern Methodist University in Dallas with minors in Spanish and Russian studies. These would become vaguely useful eventually. More useful was the time she spent at the office of the school paper, The Daily Campus. After graduation in 1993, she bopped around between newspaper jobs at The Times in Shreveport, La. (where there are way too many drive-thru daiquiri shops), The Californian in Salinas, Calif. (home of the pre-packaged salad and the city where she'd meet-cute with her husband, Chris), and the Marin Independent Journal in Marin County, Calif. (where she was the crime reporter in a place with no crime).
While working in The Associated Press' Dallas bureau in 1999, Christy realized that the AP wasn't reviewing all of the movies that came out each week and pestered the arts editor to give her a shot. It would never play out this way today but she was extremely lucky (and grateful). She then spent six years in New York writing reviews and covering entertainment for the AP, and in 2004 became the news organization's first full-time film critic. Also during this time, she may have made out with Meredith Vieira on "The View."
Christy and Chris came back home to Los Angeles in 2006. Impish baby Nicolas arrived in 2009. In 2011, Christy co-hosted "Ebert Presents At the Movies" with Ignatiy Vishnevetsky, an effort to return to the groundbreaking critical banter of "Siskel & Ebert." They lasted a year — but it was a great year.
In 2013, Christy left The Associated Press after 15-plus years to see what the outside world feels like. She co-hosts the YouTube film review show "What the Flick?!" with good friends Matt Atchity, Alonso Duralde and Ben Mankiewicz, writes for RogerEbert.com and Rotten Tomatoes, and makes frequent television appearances. So far, so good.