10 Best Films of 2016
I realize I haven't written nearly enough reviews this year and I have a million excuses for that: being busy with Nic's school, his skating, my skating, What the Flick?!, various radio shows, trying to read actual books. But I promise you I see everything, and I keep a running list of potential top-10 contenders as I go along. Here are the ones that made the cut for 2016, with an addendum — the astounding, seven-part documentary "O.J.: Made in America," which I didn't want to get rid of yet couldn't find a proper home for. Yes, I realize that's a cheat. Anyway, enjoy — and please let me know what your favorite films of the year were.
1. "La La Land"
The exact movie we need right now. I saw it the Friday after Election Day when I was feeling anxious and despondent about the world in general. Within the first few seconds of the opening number — a technically dazzling song and dance on the flyover from the 105 freeway to the 110 — everything changed. "La La Land" leaps off the screen with radiant, infectious joy. Writer-director Damian Chazelle's love letter to classic, Technicolor musicals is impeccably crafted, from the songs and choreography to the costumes and lighting. Oscar-winning editor Tom Cross, who also cut Chazelle's "Whiplash," makes all the big, splashy machinery zip along beautifully. Emma Stone and Ryan Gosling have ridiculous, crackling chemistry as aspiring artists who fall giddily in love, only to find it isn't so easy to balance their ambitions and affections. And it's one of the greatest Los Angeles movies ever, with locations around the city you don't usually see.
Watch the What the Flick?! review
2. "Moonlight"
The thing about this movie is the way it sneaks up on you. Clearly, the story of a young black man struggling with his sexuality in the projects of Miami is beautifully shot and powerfully acted from the very start. Writer-director Barry Jenkins has crafted a film that's poetic while remaining firmly planted in reality; it's gritty, yet ultimately hopeful. Subtly moving performances abound, from Mahershala Ali, Naomie Harris, Andre Holland, Janelle Monae and the three actors seamlessly playing the evolving character at the center of "Moonlight": Alex Hibbert, Ashton Sanders and Trevante Rhodes. But it's not until the film's quietly stunning climax that you realize how skillfully Jenkins has layered these character's experience on top of one another to create a complete life. The tears will flow, and they will be earned.
Watch the What the Flick?! review here
3. "Nocturnal Animals"
Seven years after his gorgeous first feature, "A Single Man," fashion designer-turned-filmmaker Tom Ford wows us once again with this twisty, trippy tale of revenge and regret. Ford intricately intertwines the story of a rich, miserable art curator (Amy Adams) reading a manuscript sent to her by her estranged ex-husband (Jake Gyllenhaal) with the violent events of the novel itself, sprinkling flashbacks to their young love in between. Fact and fiction, past and present blend in mesmerizing fashion; editor Joan Sobel deserves special credit for the way in which "Nocturnal Animals" unpredictably leaps around in time. Given that Ford is an obsessive, meticulous stylist, every image is exquisite, but this isn't just a magazine spread come to life. He's also drawn powerful performances from his actors in the service of a story that packs a surprising emotional punch.
Watch the What the Flick?! review here
4. "The Lobster"
What a wonderfully strange movie this is: quietly daring, darkly funny and wholly original. Greek director and co-writer Yorgos Lanthimos has created an alternate universe in which finding a romantic partner is a societal mandate — where citizens must follow a strict set of rules in order to secure happiness within 45 days, or risk being turned into the animal of their choice for the rest of their lives. It's actually hilarious. Lanthimos' tone is so precise and austere that when absurd things happen — and they happen a lot — you can't help but laugh out loud, if only to enjoy a release from the tension. Colin Farrell is tremendous in an uncharacteristically frumpy, understated role, with a great supporting cast including Rachel Weisz, Lea Seydoux and John C. Reilly. My favorite film from the first half of the year.
Watch the What the Flick?! review here
5. "13th"
"Selma" director Ava DuVernay gets her arms around a complex, emotionally charged topic — the legacy of slavery in America and the current state of race relations and African-American incarceration — in concise, clear-eyed fashion with this powerful documentary. Her scope is amazing here — what she achieves in a short amount of time and how she remains surprisingly equal-opportunity in both her choice of sources and targets is astounding. DuVernay talks to everyone from Angela Davis and Henry Louis Gates to Newt Gingrich and Grover Norquist. You will never see a more exquisitely photographed series of talking heads in a non-fiction film; DuVernay has taken great care not only with the content she draws from her interview subjects but also with the settings and lighting when she talks to them. A vital and (unfortunately) all-too relevant film that will leave you near tears by the end.
Watch the What the Flick?! review here
6. "The Handmaiden"
Gorgeous, sexy, frightening and unexpectedly funny, Park Chan-wook's "The Handmaiden" is a constantly surprising delight. This film is just luscious. If you've seen Park's previous movies ("Oldboy," "Sympathy for Lady Vengeance," "Stoker"), you know what a sumptuous stylist he is, but he's outdone himself here. Set in Japanese-occupied Korea in the 1930's, it's a twisty tale of love and revenge that's just brutal but also romantic in its own way. Language isn't just a source of identity but also a weapon in a time and place where propriety is everything. And despite the patriarchal setting, "The Handmaiden" is a story about strong women standing up for themselves and looking out for each other. And that's all I'm gonna say … just trust me and go see it.
Watch the What the Flick?! review here
7. "Hell or High Water"
Think of it as "No Country for Old Men" meets "99 Homes" — a movie that's not exactly doing anything new, but it's doing what it does beautifully. It's very much a How We Live Now kind of film — the story of two brothers (Chris Pine and Ben Foster) in depressed, small-town West Texas who go on a bank-robbing spree to avoid foreclosure on their family's farm. Director David Mackenzie and writer Taylor Sheridan create a vivid sense of place and a rich cast of characters, with perfect casting in even the smallest parts. There's great interplay between Pine and Foster as well as between Jeff Bridges and Gil Birmingham as the lawmen on their tails. "Hell or High Water" features tour-de-force camerawork and precise pacing from the very start, but it's unbearably tense by the end.
Watch the What the Flick?! review here
8. "Kubo and the Two Strings"
The latest stop-motion animation offering from Laika is deliriously lovely and powerfully acted with a transporting score. But it also gives its viewers, especially the younger ones, a lot of credit for being able to handle some tough stuff without ever talking down to them. In the directorial debut of Laika CEO Travis Knight, the young Japanese boy who gives the film its title (voiced by Art Parkinson) faces deadly peril from the very first moment we see him. He learns early on that the world can be a cruel place and that he'll frequently have to function as the grown-up in the equation when his ailing mother is incapable of doing so. But "Kubo" packages these weighty themes within visuals that are just jaw-dropping in both their beauty and craftsmanship. Charlize Theron and Matthew McConaughey deliver strong performances as the magical creatures who help him on his quest.
9. "Sing Street"
Like "La La Land," "Sing Street" is pure joy. It has a similarly infectious energy and a blissful lack of irony. It's all about falling in love, getting your heart broken and finding out who you are through song. And like Irish writer-director John Carney's previous films ("Once," "Begin Again"), which covered similar thematic territory, it's completely earnest about the transformative power of music. Basically, it's about a misfit teen (the charming Ferdia Walsh-Peelo) who starts a rock band to impress the beautiful bad girl (Lucy Boynton) who lives across the street from his school. Set in 1985, it has a keen, affectionate eye for the songs and styles of the era — everything from Duran Duran to Spandau Ballet to The Cure. But the original tunes on the soundtrack are terrific, as well. If you're ever in a bad mood, this movie will cure that instantly.
Watch the What the Flick?! review here
10. "Everybody Wants Some!!"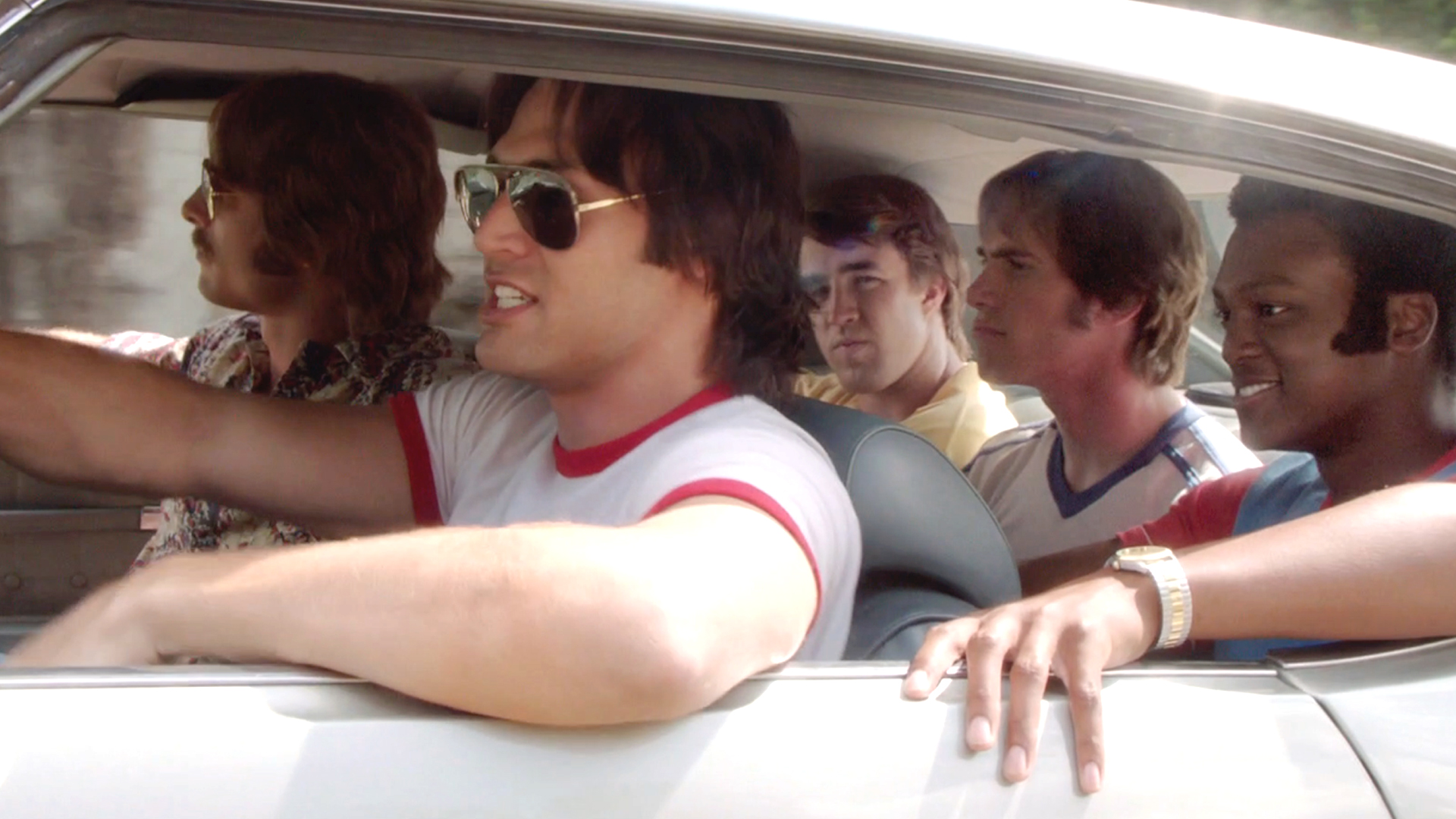 This might just be the most Richard Linklater-y film Richard Linklater has ever made. It expertly blends so much of what make him "him": baseball, Texas, pop music and talkingtalkingtalking. It's got the agreeably shaggy vibe that has been one of the key signatures of his long and eclectic career, with characters who are much smarter and more philosophical than you'd ever give them credit for at first glance. But despite the heightened nature of the dialogue, Linklater makes you feel like you've spent time with real people in a real place that you'd love to visit again. It follows a freshman baseball player (a winning Blake Jenner) as he figures out where he fits in with his teammates (Wyatt Russell, Glen Powell, Ryan Guzman, Tyler Hoechlin) in the days before college begins in August 1980. It is a complete blast.
Watch the What the Flick?! review here